How to Burn Wii Games, by Carson
First off, this website will let you identify your Wii's DVD drive, so you will know what modchip to usehttp://www.wiidrives.com/list ​
Learn how to burn Nintendo Wii Games for free, that are able to play online with WiiConnect24. Playing these will not get you banned.
​

How to Burn Playable Games for the Nintendo Wii
Written by Carson
Difficulty: 1/10
First off, you're gonna want quality media. Wiis are very picky and the type of DVD-R's you use. I highly recommend Verbatim, they will work every time. You don't need Dual-Layer, you can use DVD-R or DVD+R.
Requirements:
All aspect of this tutorial done
DVD Burner
Quality DVD-/+R Media (Verbatim)
ImgBurn (Click to download, Freeware)
A Place to download games
Tutorial:
Step 1: Insert the Blank DVD into your DVD DriveStep 2: Open ImgBurn. You should see a screen like this:
Step 3: Click "Browse for a File":
Step 4: Select the .ISO file you have downloaded. Click "Open":
Step 5: In ImgBurn, set the Write Speed to either 2x or 2.4x:
Step 6: Click "Write":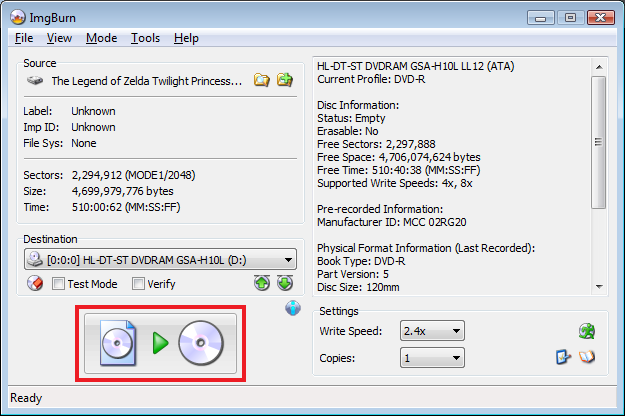 Step 7: Congratulations, your game is now burning! It should look like this: