This guide was made for an older version of the game that is no longer supported by the developers. It's recommended that you just stick with the newer version, and play with the graphical settings there. Press F2 to access the graphical settings in the newer version of Rust.
But just in case, the old version can be accessed via a prompt when you click on Play Rust in Steam.
Console commands
Here is a list of console commands that you can enter in-game using the f1 button. Note that if entered correctly a print will appear below the command saying "True" changed to "Boolean" (false), this means it worked!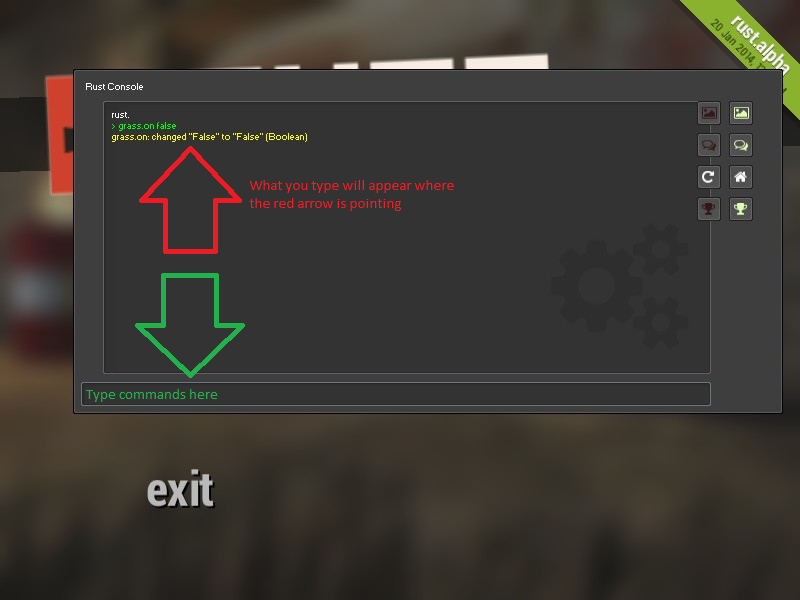 Each console command has a rating from 1 to 10.
1 being minimal, and 10 being maximum effect!
Order: ascending
Type in the line between each quotation mark. DO NOT INCLUDE THE QUOTATIONS.
"global.fpslog 5″…..(this command simply shows you your FPS every 5 seconds. You can change the "5" to any positive number you wish.)
Rating 1 "gfx.damage false" ……(enable/disable damage indicators – no FPS boost).
Rating 1 "gfx.grain false" ……(disable radiation grain effect – no FPS boost).
Rating 1 "gfx.tonemap false" ……(removes tone mapping).
Rating 2 "terrain.idleinterval 0" …..(stops the system from drawing unseen textures).
Rating 2 "grass.disp_trail_seconds 0" …..(disables trails in grass created by NPCs/players).
Rating 2 "gfx.ssao false" …..(disables screen space ambient occlusion).
Rating 3 "gfx.bloom false" …..(removes bloom effect).
Rating 4 "gfx.ssaa false" …..(disables super sampling anti aliasing).
Rating 4 "gfx.shafts false" …..(disables sun rays effect).
Rating 6 "render.distance (0.1, default 0.2)" ……(adjust the draw distance).
Rating 7 "render.level 0″ …..(lowers render level).
Rating 8. 1."grass.on false" …..(disables grass, but not grass sprites);(If you use this command you will not need to enter in commands a. & b. below).
a."grass.shadowcast false" …..(disables grass shadows).
b."grass.shadowreceive false" …..(disables shadows on grass).
Other Options
If you want to try and utilize all your PC's power try using these tips:
Sometimes, a laptop will switch into a power management setting meant to conserve power and doesn't switch back when it should have. Or you may simply have changed the power management settings yourself and then neglected to change them back later. In any case, it's important to make sure that your laptop (or desktop) is using its high performance power profile when you are playing games.
Prioritize your computer's power to the game via Task Manager. Open Task Manager by right-clicking an empty area on the taskbar and then clicking Task Manager, or by pressing Ctrl+Shift+Esc. Once open, click the tab that says Processes, then find the Rust application under that tab. Right click on the Rust.exe application and hover over Set Priority and click on High. The Rust.exe application will only show on the Task Manager if the game is already running, so make sure you do this after you start the game. This should make your game run much faster at the cost of any other applications running. Please understand that doing this may cause system instability.
(USE AT YOUR OWN RISK.)
Shut down backround applications. You can do this manually, or you can save time and use gameboosters.
http://www.iobit.com/gamebooster.html (Trusted site)
http://www.wisecleaner.com/wisegameboosterfree.html
Lastly, please make sure your PC or MAC meets the system requirements. If it doesn't then unfortunately you may need to upgrade your parts. If you're unsure what specs you have simply click on: Start (on the bottom left corner of your desktop), right click computer, and click on properties. Your computers information is listed there (instructions for PC only).
Rust game requirements below.
PC System Requirements
Minimum:
OS: Windows XP
Processor: 2 ghz
Memory: 4 GB RAM
DirectX: Version 9.0
Hard Drive: 1 GB available space

Recommended:

OS: Windows 8.1
Processor: 3 ghz
Memory: 8 GB RAM
DirectX: Version 11
Network: Broadband Internet connection
Hard Drive: 2 GB available space

Mac System Requirements

Minimum:

OS: OS X Lion 10.7
Processor: 2 ghz
Memory: 4 GB RAM

Recommended:

OS: OS X Mavericks
Processor: 3 ghz
Memory: 8 GB RAM